I'm sure that by now, you guys know that I think
Holly
is pretty cool... so cool, in fact, that I decided to sponsor her for the month of July! She hosts some really super fun link-ups, like today's, which is "Finish the Sentence".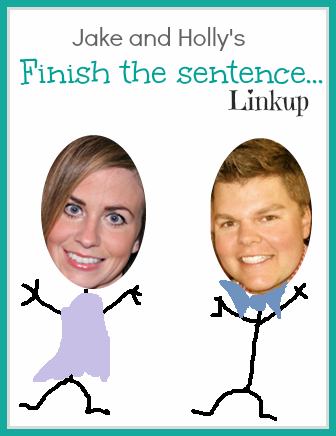 If I had one extra hour in the day...
I would go crazy with the fact that there would be a 13 o'clock in there at one end of the day, but not the other. Symmetry, people. It's a beautiful thing.
I wish my name...
CHANGE was not so complicated. This getting married and changing your name thing is tough.
I think anything chevron is...
Less awesome than anything polka-dotted, but still acceptable.
My last nightmare...
was undoubtedly work related
Sometimes...
I like socks, but not very often, and never in the summer.
My last meal on earth would be...
Mexican food with a gigantic bowl of guacamole on the side, spicy style, with cake and ice cream with whipped cream and sprinkles for dessert
I would much rather be myself than popular.
Mayonnaise...
Is one of the most vile, wretched foods on the planet, right up there with Blue Cheese.
10 years ago, I didn't think...
I would ever in a million years work in an office
Selfishly...
I like it when Ammon sleeps in on the weekends and I get extra time to myself.
My favorite show on TV right now...
Is a show from Japan that I'm watching on Hulu+ like some weird person who reads their tv shows.
And, George Zimmerman...
If I had tv and knew why he was on trial, I might have an opinion, but since I don't have tv, I don't have any clue what this is about. I'm a horrible human being who cares more about Asian television shows than American current events. Whoops.
Anyway, that's that. Thanks for sticking with that one, and for hanging in there on my least favorite day of the week. My new mantra is "I get to have coffee today, and that makes today okay." Not kidding, it's really my new mantra. Tell me what your current mantra is in the comments below... I know that some of you must have some pretty good ones. Have a great day!