Guys, one thing that I have decided over the last 9 years: Being a grown-up is hard work.
There's work, bills, chores, responsibility, fur babies, and a dozen other things on a daily basis that require love, attention, and time.
And on top of all of that, you're supposed to take care of yourself, too. Eff.
I've made mention of the fact that I wake up far earlier than is decent to work out. You've all even grumbled at me about it. Except for
Tiff
, who wakes up even earlier than I do. She sends me funny emails at oh-dark-thirty in the morning. I get the morning thing. I used to be not such a fan of them myself. But guys. Please listen to me when I tell you this: My ability to care for those around me has increased dramatically since I started working out on the regular.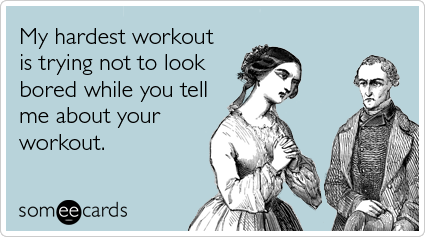 It's true. I know you don't want to hear about my boring treadmill run. So instead, I'm going to tell you about why I bother.
No, I don't love it when the alarm clock goes off. I'm not the least bit happy when this cutie jumps on top of me and starts asking why I haven't gotten him his breakfast yet.
His eyes totally look evil first thing in the morning too.
I'm still not happy as I'm drinking my electrolyte drink and getting dressed. I'm dreading every second of that workout on my way to the gym. And up until the moment I get in the pool, or on the bike, or on the treadmill, I am GRUMPY about it.
But a magical thing happens once I start. It's almost like the Thomas Kinkade paintings come to life... Oh no, no it is NOTHING like that. My bad. It's like as I'm getting a good ugly sweat going, and I'm totally miserable, the problems that I know I'm going to face that day start to become less significant. Yeah, I have to do some really not fun stuff today. But, can it really be worse than running on a treadmill next to the creepy old man who always turns the fans off and runs in his Tevas? The answer is no. If you don't know what Teva shoes look like, grab a time machine back to Boulder, CO in the 90's. You'll see your fair share of trust-fund hippies rockin' them big time. Or you can google, I guess.
So guys, now you know one of the reasons I choose to work out in the morning instead of at night. Let's face facts: If you have to work all day long, then go face sharing gym space with strange people doing terrible things, what do you have to look forward to after that? Going home to chores, dinner making, and falling into bed exhausted? NO THANK YOU.
Have a fantastic Friday. Stay classy this weekend.