Happy Monday! I hope you all had an amazing weekend, and are ready to tackle the challenges this week may bring. On Saturday, I did the 5k. I had decided it was important to see where my health and fitness were before I started a running training program. Around our house, we are nerds who love to track things.
Well, the results are in, and my 5k starting point is 41 minutes. My average speed was about 4.6 mph. I'm pretty happy with this. I told myself going in that I needed to be under 45 minutes, and I am very glad to have blown that mark away. So the next step is to start training. I found a 6 week beginner training program from Women's Health magazine that I'm going to be following, and I've set a very audacious goal: In 6 weeks, I want to finish a 5k in 30 minutes or less (or it's free!... Not really).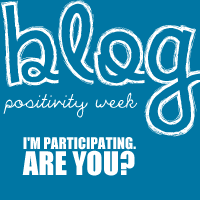 All of this leads me to talking about blog positivity week (in a roundabout way). Ashley from
After Nine to Five
is encouraging everyone this week to focus on the positive aspects of the blogging community. Today I want to talk about accountability. It's not just for church, or weight watchers. I know that by writing my blog, and sharing with all of you, I am going to be held accountable for the things that I say I'm going to do. I feel like I have support, encouragement, and the accountability that I need to meet my life goals.
If you haven't headed over to meet Ashely yet, and see what blog positivity week is all about, please do. I don't think you'll be sorry you took the time. Have a wonderful day!