I will say this now: If I weren't linking up with such amazing people today, there is no way that what you are about to see would EVER in a million years be making its way onto this blog. I know it passes the 5 minute mark, and many of you have issues with that. I do have to tell you, the best part is probably from 4 minutes or so to the end. So, if you refuse to sit through 7:49 of me talking about being a hoarder, just skip to that part.
I should lead off with who's throwing the vlog party today. Here's the button. Click it, and find some new friends.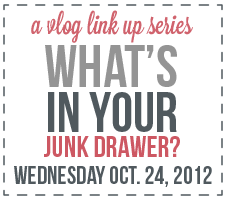 I really would like to postpone this as much as possible, so let me explain my appearance, yes? Yes. So, I ran before doing this vlog, and didn't bother to change, or shower, or anything really afterwards. Sorry for the sweat, greasy bangs, and all that. I'm going to call it proof that I worked out.
Don't worry, tomorrow I'll post an in-depth tutorial about how to "unfollow" a blog. That's a lie. I prefer to avoid tutorials, and really... in the poetic words of my dear friend
Shaylynn
, "I can not lose a follower. I just can't."
But I promise, if you come back tomorrow I won't be showing you any more horrifying confessions. That was enough for a while.
On a far less awful note, over on
For Richer or For DIY
, I'm showing you some things I have pinned on my Pinterest, to help you get a better sense of our wedding vision. Go check it out!