Do you ever have that moment where you walk out of Target and immediately start proclaiming to people that you got "all of the things", and that your things are the best things ever? I totally did this. I got a circular in the mail for the new Threshold line at Target, and it included a coupon for $5 off any purchase of $35 or more. Then I noticed that they have sheet sets that are designed to fit a mattress that is up to 20" deep. Ammon and I have a mattress that is 19.5" deep. I know this well, because I sold that mattress for a living for a while. Finding sheets for our heaven on a cloud is a bit of a bish. So I did what any girl in my position would do; I went to buy all of the things.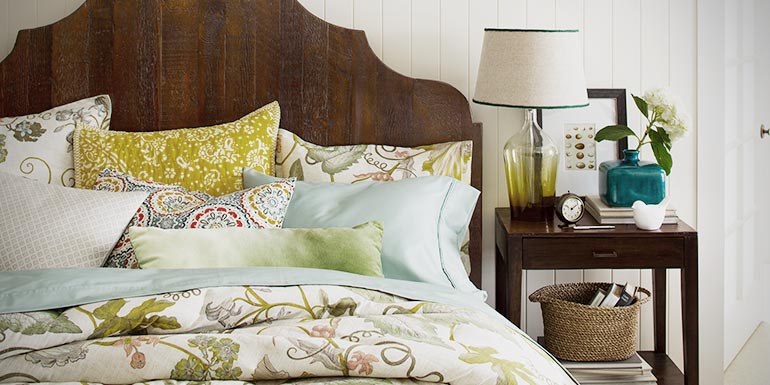 From Target.com
Oh my geez, guys. Even just putting these sheets on my bed was the best moment ever. They are so soft. And even though we got solid beige, they have this adorable pleated detail. I am so in love. Also, they are substantially cheaper than most deep-pocketed sheet sets. You can shop them
here
.
I also went a little crazy buying all the things baby for my preggers buddies. I intentionally avoid the baby section ALL OF THE TIME. Even when I have to buy shower gifts. It's too dangerous. Everything is so tiny, and adorable, and soft, and huggable... yes, I hug baby stuff sometimes. Don't judge me. After buying all the baby things, I bought all the baby wrapping paper, and all the baby cards. Papyrus Cards make a killing off of me. 95% of my stationary purchases are Papyrus. They are my all the things for cards and notes, and when they started selling in Target, I knew I was a goner. Back when I had to go to their special fancy stores, I had a chance. Not anymore.
I can't show you anything I bought for babies, because I can't ruin any surprises. Sorry.
Also,
Cocoa Via
... I a a sucker for any supplement that is a) Chocolate based and b) designed to promote a healthy circulatory system. Cocoa Via is both. It's a cocoa flavanol extract that you add to food or beverages, and its main function is to support eye, heart, and blood vessel function. Some of you might or might not know, but I actually have a less-than-stellar circulatory system. My maternal Grandmother passed away from complications arising from an "undiagnosed circulatory system disorder". Both my mom and I have a lot of symptoms of a weakened circulatory system, and the research so far is not working in our favor. There is not a lot medically that can be done for these kinds of problems, you are just encouraged to stay warm, eat well, maintain a healthy weight, and exercise regularly. However, there are supplements that claim to do what medicine can't, and I tend to fully explore those supplements.
From Cocoa Via Website
While I can't say that I have super-strong opinions so far on its efficacy, I am really enjoying having a reason to add chocolate to my coffee every morning, and unlike lots of powders, it dissolves really well. At $35/box, it's kind of steep, but I might consider continuing it, simply to see what the long term effects of adding it to my diet are.
Nobody paid me a dime to write any of these things. However, if they want to retroactively pay or compensate me, I wouldn't be averse ;).