Happy Friday! Ammon and I are hitting the open road today, Heading to Wichita for my cousin's wedding. I can already sense your jealousy over my trip. I would be too, if I were you. Since I've been kind of stumped on what to write lately, I thought that I would turn to everyone's favorite Friday link-up... Friday's Letters.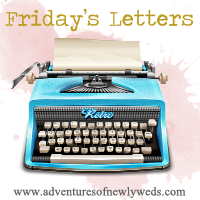 Dear Alyx,
I love her cat-loverness.
You are so wonderful. Thank you for viewing and approving the patterns I eventually purchased for my wedding dress and the bridesmaid's dresses. Thank you for responding so jubilantly. I can't help but be so angry that you and I keep ending up in the same places a few weeks apart. First, Mount Rushmore, and now with Wichita. One of these days we're going to have to be in the same place at the same time.
Dear Mike (Alyx's Husband),
Stolen from Alyx's blog... because I've never met them. Sad.
Ammon and I are looking forward to meeting you as well. You seem pretty darn cool.
Dear Beckham,
He's an alien cat. Obviously
I think you know that we're leaving... you were moping around all night last night, making me sad. We would take you with us, if you weren't so neurotic every time you have to go for a ride in the car. I am seriously hoping we never have to move you across the country, because you would have to be sedated, and that would stress me out. I miss you already.
Dear Work,
I love you, but I am so thankful to spend 4 days away from you. Like any relationship, when we spend too much time together, I tend to be frustrated with you. I promise to be more in love with you than ever come Tuesday.
Dear Ammon,
This is the first time you'll be meeting a large chunk of my large family. Almost half of it, in fact. Be ready for lots of names, lots of stories, and for being interrogated by my Aunts and Uncles. They get a little feisty after a beverage or two. You'll fit right in. I'm glad we have a weekend away from the house together. You're my favorite.
Dear Blog readers,
I have to apologize for
sucking as a blogger lately. I haven't been reading many blogs lately, nor have I been super motivated to come up with awesome posts. I love you all, and hope you can still love me, despite my dry spell. I promise, I'll come back in full force soon.
Dear School,
You are challenging. Not because the material is difficult, but because I have to juggle you with everything else. Let's figure out how to get along peacefully in the coming weeks, okay?
Happy weekending, friends! Can't wait to share with you about the wedding next week =).